The News: A Cobb County School Board member posted his feelings about the Catholic Church and in doing so may have alienated the school district's Catholic students.
The Setting: The setting here is virtual. It came from an exchange that took place on social media.
The Players: Former Cobb County GOP Chairman Jason Shepherd published a post on Facebook about Martin Luther on Halloween. That post was historic in nature and was done to commemorate Reformation Day. Cobb County School Board member David Banks replied to the post, and made his comments about Catholicism.
The Comments: According to The Marietta Daily Journal, Banks' response read: "The Roman Catholic Church can not be Christian. More paganism in its beliefs. If Roman Catholics read the Bible They would realize the false doctrines. Only Jesus Christ is the head of the church."
You can see a screenshot of the post below.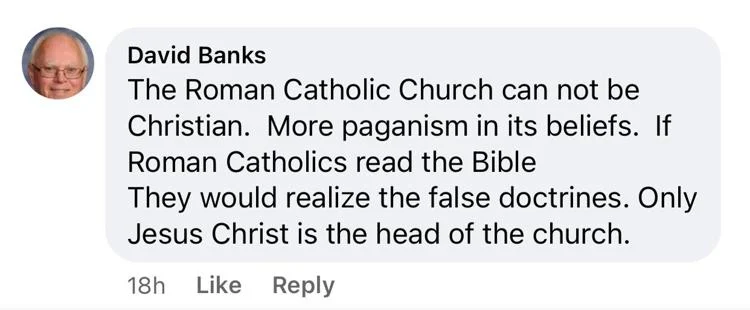 The Aftermath: The comment is no longer on Facebook. The Cobb County School district told the Marietta Daily Journal that school board members are allowed to express their own opinions, and that they do not represent the opinions of the district as a whole.
More About Banks: Banks serves as Vice-Chair of the school board and was reelected to the school board in 2020. He represents Post 5, which includes parts of the Lassiter, Pope, Walton and Wheeler High School clusters.
About The Public Record: This article is part of an ongoing series highlighting statements by public officials called The Public Record, where we present recent quotes by public officials or candidates. You may not be able to attend every public meeting or see every occasion where your representatives speak, but you still have a right to know what your representatives and those who hope to represent you have been saying.

"Because public men and women are amenable 'at all times' to the people, they must conduct the public's business out in the open." -Charles L. Weltner Sr., former Chief Justice of the Georgia Supreme Court