Cobb County Magistrate Judge Quinn Kasper was named the statewide Council of Magistrate Court Judges "2022 Magistrate of the Year" at this week's Spring Executive Committee Meeting. 
Cobb's Chief Magistrate Judge Brendan Murphy was on-hand for the presentation.  "Judge Kasper represents the best on the bench," Judge Murphy said. "As Council President, she has tirelessly worked for Magistratesacross the state and the people we serve to ensure access to justice even during the pandemic."
"It's humbling to be recognized by your peers for doing what you love," said Judge Kasper. "I'm thankful to have the opportunity to shine a light on Magistrate Court and provide our communities with greater access to the legal system." 
Judge Kasper was first appointed to the Magistrate Court of Cobb County in 2017.  A part-time judge, she also maintains an active law and mediation practice.  Judge Kasper currently serves as the President of the Council of Magistrate Court Judges and is a member of the Judicial Council of Georgia.  She and her family reside in Smyrna.
---
Damn Good Dog
The Gwinnett County Police Department announced the retirement of K9 Broni, who has retired to the care of his handler, Sgt. Erick Fee.
Broni has served with the Hazardous Devices Unit since 2013 as an explosive detection dog.
He has worked many high-profile events and even protected several Presidents.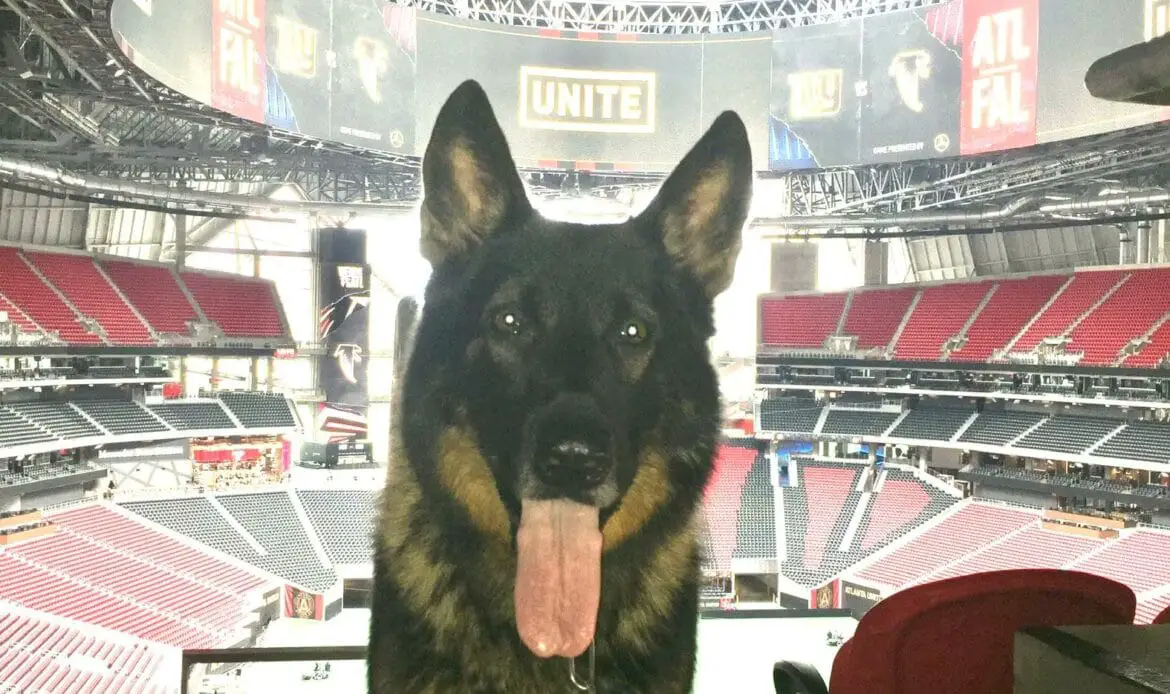 ---
Clarke County Sheriff's Office serves at food pantry
The Clarke County Sheriff's Office recently helped serve with iServe Ministries at a food pantry event. More than 30,000 pounds of food was distributed to more than 240 families. Photos are below.
---
MARTA Police Department wins Gold Standard Award
The MARTA Police Department has received the Transportation Security Administration Gold Standard Award for its security program. Representatives from the U.S. Department of Homeland Security and TSA presented the award to MARTA Police Chief Scott Kreher and his department at a MARTA board committee meeting on Thursday, April 28. The award recognizes excellence in MPD's security plan and security training, drills and exercise programs, public outreach efforts, and background checks.
"I am proud to accept this award alongside the dedicated officers in the MARTA Police Department," said Chief Kreher. "In particular, MPD's Emergency Preparedness Unit has worked to ensure that MARTA is a safe, secure transit system and that officers are trained and well-prepared to handle all types of emergencies."
The Baseline Assessment for Security Enhancement (BASE) Program is a voluntary security assessment of mass transit and passenger rail systems performed by TSA transportation security inspectors. The Gold Standard Award is the top recognition the TSA gives to a transit agency for achieving the highest scores on its BASE review that evaluates 17 categories of security and emergency preparedness action items identified as fundamentals for a sound transit security program. 
The BASE Program was developed to increase domain awareness, enhance prevention and protection capabilities and further response preparedness of transit systems nationwide. BASE is aimed at meeting the requirements in the 9/11 Commission Act's security assessment section that directs the TSA to identify critical assets, infrastructure systems and their vulnerabilities, as well as assist public transportation authorities to address their security programs.
---
What Is Around Georgia?: Here you will find a live blog of shorter stories, developing stories, announcements, photos and quick takes that may not be long enough to warrant full news stories. Check back for updates throughout the week.