MARTA is asking for your opinion on the exterior graphic design of new railcars, after a successful campaign earlier this year to solicit feedback on interior design features. 
MARTA's next generation of railcars will build upon new technology and advance safety and security for all customers. The goal is to expand comfort and convenience elements to create a reimagined transit experience. 
Daily riders, occasional riders and potential future customers are encouraged to vote on one of four exterior graphic design options inspired by MARTA colors and the dynamism and movement of trains. Participants can vote and share their feedback by navigating to a crowdsourcing platform through the MARTA homepage, at www.itsmarta.com/yourride or on MARTA's social media pages.
Exterior graphic design options are below with two sub-options for design size and placement.
Minimalist
Stretched MARTA logo to evoke speed
Option A
Option B
Flowing Ribbon
MARTA logo as flowing ribbon to denote movement
A
B
Neighborhoods
Rings of outwardly spreading colors to indicate neighborhoods 
A
B
Tracks
Track lines reminiscent of street grids
A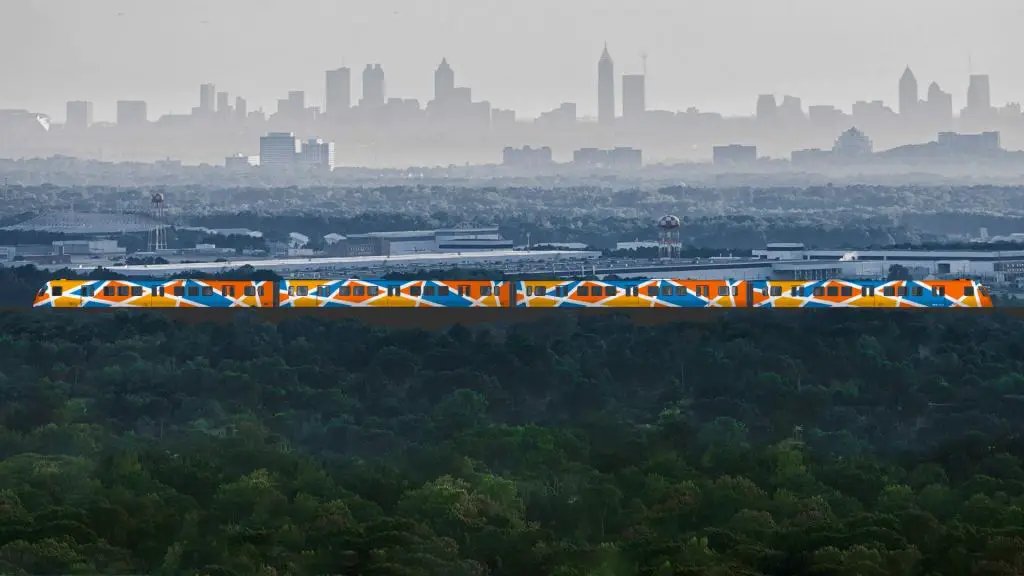 B
A crowdsourcing effort in the spring seeking feedback on the interior design of the railcars was successful, with more than 1,300 riders sharing their preferences. After analyzing 17,000 votes and 700 comments, MARTA found the most popular interior features are digital maps, next station and destination displays, and Americans with Disabilities Act (ADA) accessible seating and signage.
"As a result of this feedback, passenger seats will be more accommodating, railcars will offer more options for those who are standing, there will be specially marked areas for bikes and strollers, and dedicated spaces for wheelchairs will optimize entry and exit points. Other design elements include an open gangway so riders can move freely between railcars and convenient charging stations," said MARTA General Manager and CEO Jeffrey Parker. "We were thrilled with the response we received on the interior features and are eager to see what riders think of the exterior design options."
Customers who have already registered for MARTA's online crowdsourcing platform do not need to repeat the process to participate in this next phase. Those who haven't signed up, please take this opportunity to register at www.itsmarta.com/yourride to provide your feedback. MARTA will also have teams in rail stations conducting in-person surveys.
The new trains will complement other investments aimed at enhancing the customer experience such as a new station audio-visual information system, systemwide elevator and escalator upgrades, restroom modernization, and rehabilitation and restoration program to refresh MARTA rail stations. The first new railcar will arrive in metro Atlanta in 2023.