There is, arguably, no single individual who has brought more national attention to agriculture and the state of Georgia than Jimmy Carter, 39th president of the United States, who grew up in the tiny farming community of Archery, Georgia, about 3 miles outside of Plains.
A member of the Georgia Agricultural Hall of Fame, which is housed at the University of Georgia's College of Agricultural and Environmental Sciences, Carter is revered for his activism, compassion and overarching humility, as well as his influence on agriculture and public health.
After graduating from the U.S. Naval Academy in 1946, Carter served as a submariner in the U.S. Navy's Atlantic and Pacific fleets before returning to Georgia with his wife, Rosalynn, and their children in 1953 to run the Carter family peanut farm and warehouse in Plains.
He began his political career on the local level, serving on the school board in Plains before his 1962 election to the Georgia Senate. In 1971 he became Georgia's 76th governor. On Nov. 2, 1976, Carter became the first native Georgian elected to serve as president of the U.S. During his time in political office, Carter remained a steadfast supporter of Georgia agriculture.
Georgia Farm Bureau President Tom McCall said that former President Carter's contributions to agriculture have helped shape the way others think about agricultural production.
"The former president is easily recognized as the most famous peanut farmer, and his work in and out of the fields in south Georgia have given others a different level of respect for farming and agriculture," said McCall, who was inducted into the Georgia Agricultural Hall of Fame in 2022. "Mr. Carter's national campaign 47 years ago helped others better understand the plight of rural Americans. For those connected to Georgia's No. 1 economic driver, we can all appreciate that."
"It is with deep gratitude that Mr. Carter dedicated himself to a rural lifestyle and tirelessly worked on behalf of other people while serving as a lawmaker, Georgia governor and U.S. President. We say, thank you," McCall added.
After his service as president, Rosalynn and Jimmy Carter founded The Carter Center in Atlanta to address national and international policy issues and advocate for agricultural development, human rights, conflict mediation, and free and fair elections.
Widely recognized as one of the most diplomatically active former presidents in U.S. history, former President Carter was awarded the 2002 Nobel Peace Prize for his work to find peaceful solutions to international conflicts, to advance democracy and human rights, and to promote economic and social development.
"Jimmy Carter is an inspiration. He is the perfect example of the importance of service, of helping others and of continuing to be active," said Abit Massey, former head of the Georgia Poultry Federation and a friend of Carter's.
Among those acts of service are The Carter Center's efforts to eradicate guinea worm disease around the globe and his personal efforts in support of fair elections and fair treatment of people both in the U.S. and in other countries.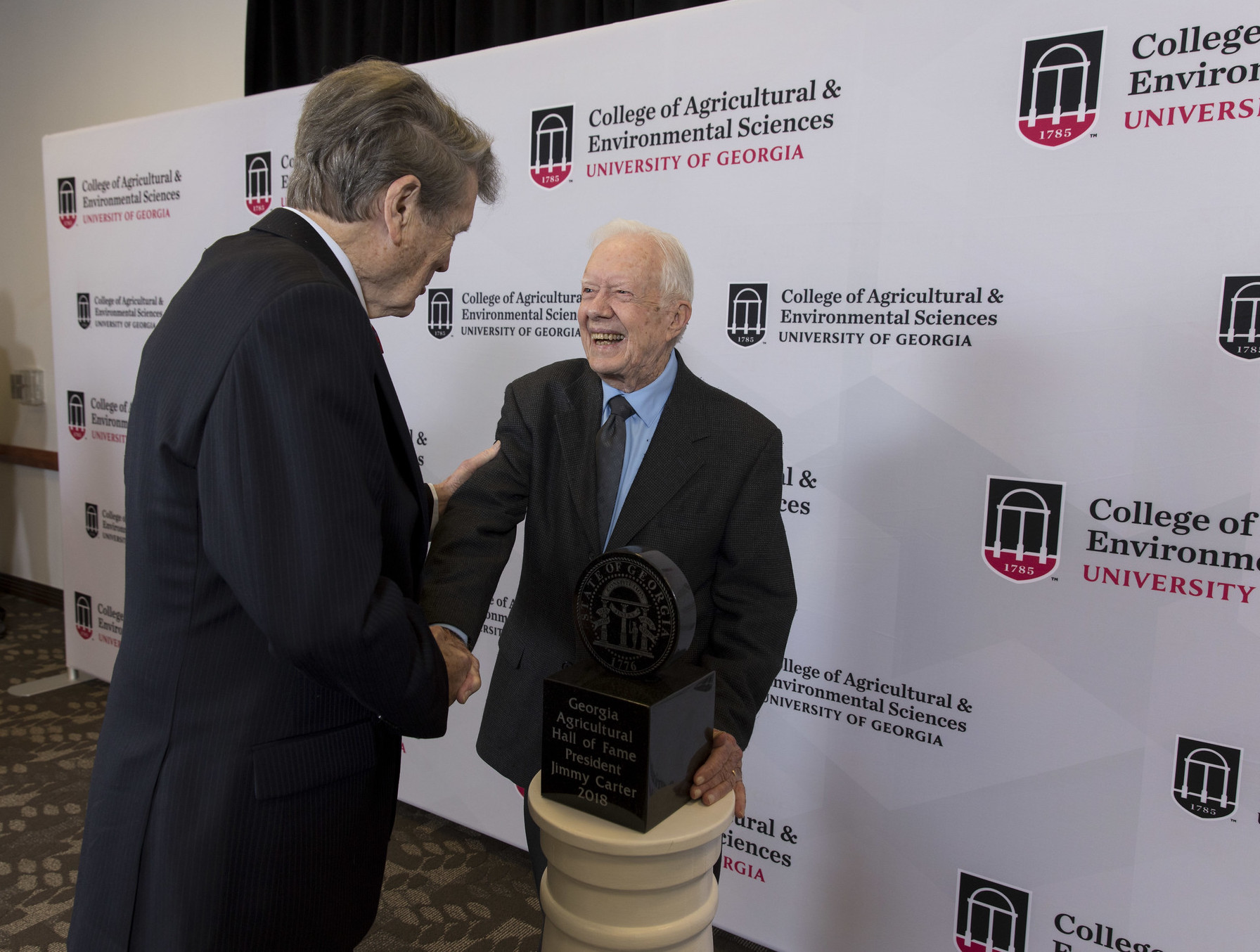 "He took an interest in equal rights and civil rights when they were not popular in the South, but again he saw the things that should be done and how people should be treated," added Massey, who was inducted into the Georgia Agricultural Hall of Fame in 1996. "To have the influence to call the leaders of other countries when someone was being unfairly treated or unfairly imprisoned, to step up and be involved, is incredible."
In addition to their global advocacy work, the Carters have dedicated decades of service and support to Habitat for Humanity, the Atlanta-based nonprofit organization that was founded in Americus, Georgia, a neighboring town to the Carters' hometown of Plains. Over more than 35 years of service with the organization, the Carters helped build and renovate more than 4,000 homes in 14 countries through their involvement with the Jimmy and Rosalynn Carter Work Project, according to Habitat for Humanity's website.
"President Carter will forever be known as the 'peanut president' from Plains, Georgia, however his greater legacy is his commitment to the needs of his neighbors across the globe," said Don Koehler, executive director of the Georgia Peanut Commission. "He has set an example for all of us, and Georgia's peanut industry is no different. Our humanitarian efforts to feed the hungry have roots in the spirit of President Carter." 
Carter's influence reaches from individual citizens to the highest levels of government.
According to The Carter Center, response to a public invitation to send messages of peace and comfort to President Carter and his family via an online portal has received overwhelming response.
President Joe Biden, who has remained friends with Carter since they first met in the mid-1970s, traveled to Plains, Georgia, with First Lady Jill Biden in the early days of his presidency for a private visit with the Carters. On Feb. 19, President Biden tweeted his support for the former President.
Reflecting on his long acquaintance with Carter, Massey concluded with a sincere observation.
"The odds were against him when he ran for senate, then governor, then president, but he beat the odds many times," Massy said. "He is in hospice now, but I hope he beats the odds again and stays around a while."